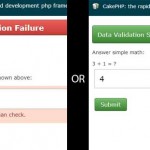 Here is the latest CakePHP Captcha component for CakePHP Version 2.x. Compatible up to CakePHP version 2.4.1.
NOTE:
For best
Image Captcha
results this component
requires

GD

and

Freetype

support enabled
. Please check your phpinfo() to know whether your server supports this (See image below). Contact your hosting provider if any of these libraries are not enabled.

Online Demo
Download at Github
Update – Sep 25, 2013
Supports Image and Simple Math captcha
Works without GD Truetype font support (NOT RECOMMENDED though)
Default and Random themes for Image Captcha
Checks for missing font file
Updated on – Sep 19, 2013
Had been reported of issues related to missing font file so i have updated the controller function to detect the existence of font file. Dies with error on missing font file. So

don't forget to upload attached font file

. If you wanted to use a different font

upload it to webroot folder and change settings['font'] parameter
Updated on – April 12, 2013
Random captcha images

are possible. Set "theme"=>"random" in $settings variable of CaptchaComponent.php or in Controller when loading captcha component.

Can't Read? Reload

is possible now. A working piece of jQuery code is included in view file add.ctp. Be sure to include jquery library, such as https://ajax.googleapis.com/ajax/libs/jquery/1.9.1/jquery.min.js to make Reloading of captcha working
How to make it working
Download attached zip file and extract. Copy all files placed in app folder to their corresponding locations. Continue reading →